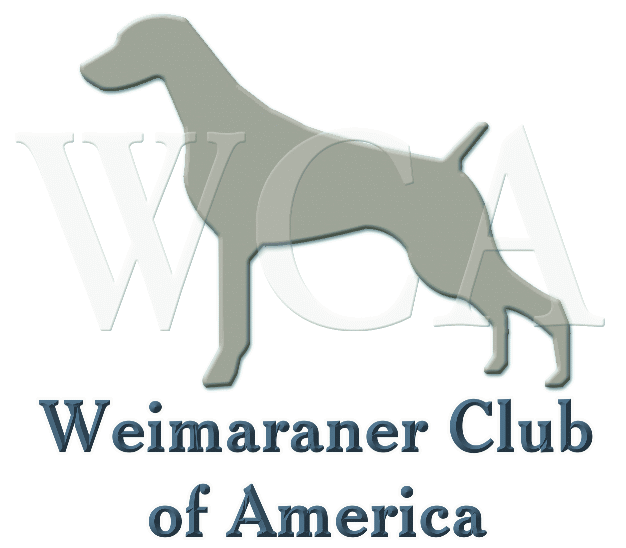 Featuring...Alessandra Folz
Foster, RI
Your Occupation: AKC Judge
How long have you been owned by Weimaraners? Since I was 17
What attracted you to the breed? Their character - they're smart, passive aggressive, interesting and always thinking. They're stunning. And seeing Stan Flowers show Phoebe Snow just stole my heart.
If you are a breeder or plan to breed, do you have a kennel name, and if so how did you pick it? My kennel name is Rissana. It's a combination of my sister's, my mother's and my name.
What activities do you currently participate in or hope to participate in with your Weimaraner? I compete in conformation, hard core upside down couch surfing, tadpole hunting and general hysteria. I've always hoped to participate in obedience, but my greatest talent is teaching them temporary deafness!
What is your proudest moment with your Weimaraners? Winning the Sporting Group at Westminster with Marge. She had injured a tendon earlier that day, and she refused to give up. I was so proud of and it meant so much to me that my family came down to NYC that afternoon to watch her in the group that evening. But that was Marge. She brought people together. She was a brilliant ambassador for our breed, and I am so lucky to have been at the end of her lead and to share a whole life with her.
What is your funniest experience with your Weimaraners? I was showing a puppy dog (just 6 months) at an outdoor specialty, and he stood like a statue, and when I went to move him around the ring, he "fell" down, laid on his back, and peed into the air! I could NOT get him up. And he was big. I ended up dragging him out of the ring by his front legs, while he played dead. To this day, when people are nervous, I tell them this story to reassure them that nothing could be that bad!
Things you like to do in your spare time? Bird watching, playing the piano, having dinner parties, volunteering for HIV prevention programs and food banks, and reading. Also, I have the cutest and funniest niece and nephew in the universe.
Something people would be surprised to know about you? Gosh, there are so many things! Secretly, I'm really shy. I met Mother Teresa at a rest stop in New Jersey. I'm a sucker for a beautiful teapot. I was raised in Europe. I think there are so many things people would be surprised to learn, partly because showing dogs, people sort of make up what they believe about you, without getting to know you at all.
What song best describes your life? The Sound of Silence
---
FORMER MEMBER SPOTLIGHT PAGES:
Hermine Wilkins
Wanda Gunter
---
Would you like to become a part of our member Spotlight?
We'd love to have you! Click here to fill out our fun Member Questionnaire. Send the completed form and two photographs (make sure they are photos of YOU and your dogs!) to weimclubinfo@gmail.com