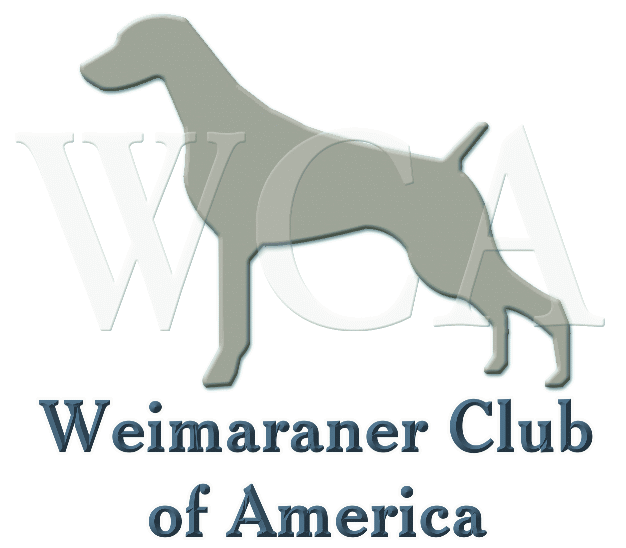 The Weimaraner Club Of America
2019 National Specialty

2019 National Schedule as of January 2019
Sat, Oct 19: Lay track

Sun, Oct 20: Tracking test: TD, TDX, VST

Mon, Oct 21: Shooting Rating Test/Hunt Test PM Welcome Party

Tues, Oct 22: GCWC Sweeps - Judge Louise Brady
GCWC Specialty - Judge Bonnie Linnell Clarke
WCA Agility - 2 Trials, Weim Only
PM Health/Breed Seminar

Wed, Oct 23: GCWC Specialty Conclusion
Top 20 Pre-Judging
WCA Obed/Rally #1 Judges Catherine Thompson - Obed; Kathleen Cook
Rally WCA Obed/Rally #2 Judges Kathleen Cook - Obed; Catherine Thompson - Rally
PM - Top 20 Presentation & Awards Dinner

Thur, Oct 24: WCA Fut/Mat - Judge Michael Faulkner
Rescue Parade
WCA National & Jr Showmanship - Judge Dana Cline
PM - WCA Membership Meeting
WCA Awards Banquet

Fri, Oct 25: WCA National Conclusion - Judge Dana Cline

Location - Roberts Center, 123 Gano Rd, Wilmington, OH 45177

NOTE: The GCWC will have a specialty on Friday Oct 18, 2019, judge is Walt Sommerfelt and 19th & 20th is all- breed and GCWC will host a Scent Work Trial. All at the same location - Roberts Center.

Raffle Change - Something new this year - The raffle will be a collective effort by Greater Cincinnati Weimaraner Club, Weimaraner Club of America and Weimaraner Foundation Fund. All 3 groups will work together in organizing and conducting the raffle. Proceeds will be equally split 3 ways. Please support the raffle by donating & purchasing raffle items.
Download the 2019 National Specialty Schedule
Download the 2019 National Specialty RVF Reservation Form
2019 National Specialty Hotel Information
Buy your National Specialty Raffle Tickets!