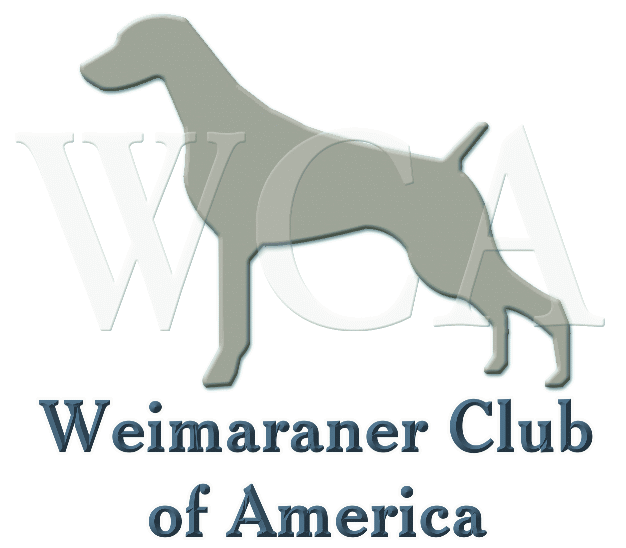 The Weimaraner Club Of America
Public Education
If you are considering the addition of a Weimaraner to your family, the Weimaraner Club of America hopes the information provided on this website will enable you to carefully research, seek, identify and locate a reputable breeder. Puppy buyers are encouraged to choose their dog's breeder wisely to have the best chance of owning a Weimaraner that will live a long, active, happy and healthy life.
It is hoped these pages will enhance knowledge and promote a true understanding of the Versatile Weimaraner and will help you make an informed decision about whether a Weimaraner is the right dog for you. We further hope those who partake of learning opportunities offered here will translate to better care, training, socialization, and suitable home environments for Weimaraner puppies and adults.
Please peruse our site, and after you've navigated the various articles, if you have any inquiries, please contact the Public Education Committee and we will be do our best to help you with your questions.
"The Weimaraner Club of America presents the educational and scientific material on these pages as a service to its membership and to the general public but does not endorse those materials, nor does it guarantee the accuracy of any opinions or information contained therein. The opinions expressed in the materials are strictly the opinion of the writer and do not represent the opinion of, nor are they endorsed by, the Weimaraner Club of America. Health and medical articles are intended as an aid to those seeking health information and are not intended to replace the informed opinion of a qualified Veterinarian."
Linda Hartheimer, Chair
---
"How to" Articles
Children & Dogs

How to Choose a Weim Breeder

Crate Training

Critical Periods In a Dog's Life

Dealing with Separation Anxiety

Good Behavior Spontaneously


How To Stimulate a Dog's Mind

Prepare Your Pet for a New Baby

Puppy Socialization, What Is, Why It's Important

The Fundamentals of Early Puppy Training

When Baby Makes Four