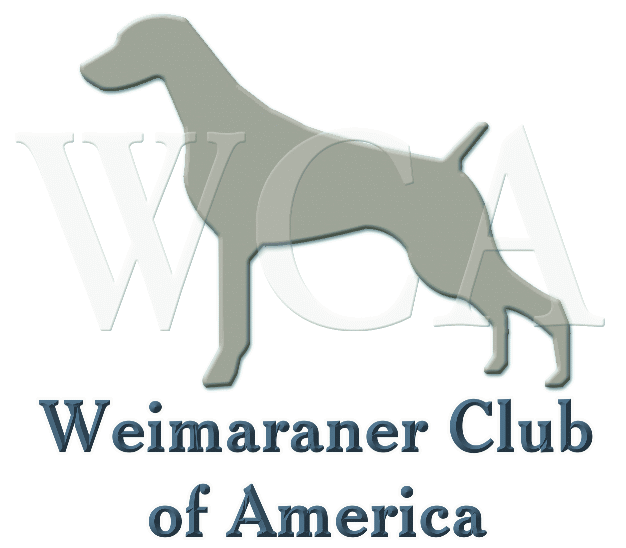 WEIMARANER CLUB OF AMERICA APPROVED JUDGES' MENTORS
ARIZONA
---
CALIFORNIA
---
COLORADO
---
FLORIDA
---
GEORGIA
---
HAWAII
---
LOUISIANA
---
MISSISSIPPI
---
MARYLAND
---
MINNESOTA
---
NEW JERSEY
---
NEW YORK
---
OHIO
---
OREGON
---
RHODE ISLAND
---
SOUTH CAROLINA
---
TEXAS
---
WCA JUDGES' MENTOR REQUIREMENTS
1. Breeders interesting in mentoring prospective judges will apply to the Judges Education Chairperson by submitting an email or letter via snail mail with a list of their qualifications and supporting documentation (dogs names, etc).
2. Mentors must meet 3 of the following 6 components:
• 15 years exhibiting in Conformation
• Bred and raised 4 or more litters on your premises
• Bred 5 or more bench champions
• Owned at least one dog who has sired 5 or more bench champions (stud dog must have resided with applicant)
• Personally exhibited 4 dogs to their bench championship
• Owned 2 dogs that have earned AKC or NAVDHA field titles
3. If the prospective mentor does not meet 3 of the above requirements, please provide a summary of accomplishments for review by the BOD that equal or exceed the above requirements for consideration.
4. All Weimaraner breeder judges will be included on the mentoring list, if a breeder judge is not interested in mentoring, please notify the Judges Education Chairperson so that their name can be removed from the list.
5. Individuals who are on the WCA approved mentor list should have a good understanding of the breed standard and be willing to mentor individuals ringside without bias towards individuals or specific dogs.
6. Individuals should also be willing to have prospective judges to their homes/kennels to examine dogs and to discuss the standard.
7. The mentoring process should be ongoing and should continue throughout the judge's application process, provisional assignments and regular status as needed.
8. The mentoring list will be published and updated regularly on the WCA website and will be published once a year in the magazine.
9. Judges will be randomly surveyed on their experience with mentors and individuals may be removed from the mentor list should the mentor express bias towards individuals or specific dogs or act in a manner that is detrimental to the Judges Mentoring Program.
Weimaraner Club of America Approved October 10, 2009