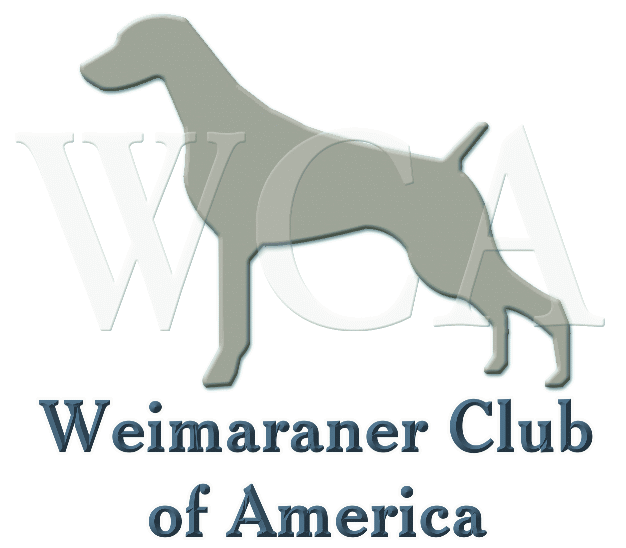 The Weimaraner Club Of America
HALL OF FAME
Hall of Fame Rules
PURPOSE
The purpose of the Weimaraner Club of America Hall of Fame shall be to bring recognition and honor to Weimaraners who have made outstanding contributions to the development of the breed in the United States.
REQUIREMENTS
Must be a Weimaraner deemed to have made a significant contribution to the Weimaraner breed. This can mean exceptional merit in his/her own right or through contributions via his/her get. The nominee must have been deceased at least two years prior to the closing date for nominations.
PROCEDURES FOR LETTERS OF NOMINATION
1. Nominations may be made by any member in good standing of the Weimaraner Club of America. (Forms may be obtained from the National Office or from the Committee Chairperson.)

2. The committee members or Chairperson may nominate dogs. There is no nomination fee for dogs nominated by a committee member or committee Chairperson.
3. All letters of nomination are to be sent to the Hall of Fame Chairperson.
4. Letters may arrive during the months of January through December. The nomination will be considered during the first period for which that nomination is eligible. A check for five dollars ($5.00) must accompany each dog nominated along with the letter of nomination. The filing fee is to be used for record keeping expenses and for the award given to each Hall of Fame inductee.
5. Nominations must be received by the committee Chairperson on or before the 1st of the month, four months prior to the date of the National Specialty (e.g., if the National Specialty is to be held on April 15, the deadline would be Dec 1.) to be considered for that year. Nominations arriving after that date will be considered for the next year.
6. Failure of a nominee to receive approval by the committee shall cancel the nomination for that year. The nomination will be retained for one more voting year, after which it may be submitted again following the prescribed procedure in any succeeding year.
7. Letters of nomination must include the following: (If information is not available, the reason why must be stated)
8. Dog's full AKC name including all titles. a. AKC number. b. Date of birth, date of death. c. Breeder's name. d. Three generation pedigree (parents, grandparents, and great-grandparents). e. Owner's name and current address. f. Summary of history of accomplishments and/or contributions.
Weimaraner Club of America Rules Approved December, 2003
---
WCA HALL OF FAME HONOREES
Click on each picture to read the full story
--------------------------------------------------------------------------------------------------------------------------
| | |
| --- | --- |
| | TC CT MACH CAN OTCH CAN VCH Regen's Rip Stop, UDX5, OM1, MH, MXB, MJB, Can TD, SDX, RDX, VX7, FROM, NAVHDA NA PRIZE 1, HOF |
| | |
| --- | --- |
| | TC AFC Regen's Summer Blaze, VCD3, UDX2, RE, MH, MX, MXJ, SDX, RDX, VX6, BROM, FROM, HOF |
| | |
| --- | --- |
| | AM CAN CH Nani's Win'k Of An Eye, CD, TD, NA, NAJ, VCD1, JH, NRD, VX, BROM, HOF |
---