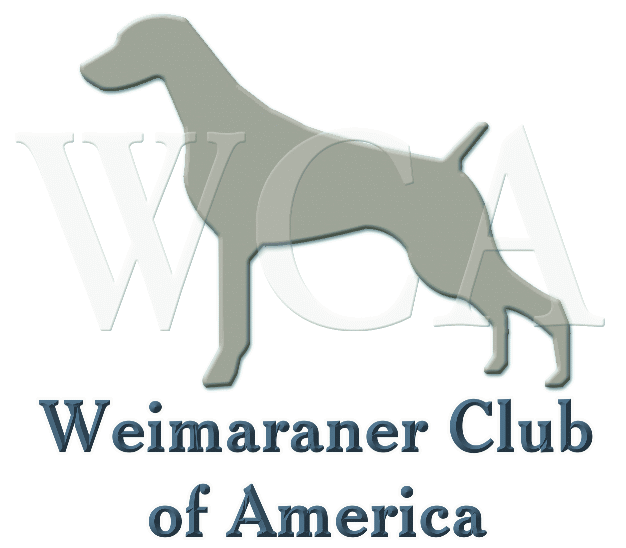 The Weimaraner Club Of America 2017 National Field Trial and Winter Specialty
Celebrate Our Versatile Breed
WCA Winter Specialty
(Where the Bench Meets the Field)
Friday, December 1, 2017
The Day Prior to the National Field Trial
Hardy Murphy Coliseum, Ardmore, OK
Join us for a wonderful evening of fun, food, some great auction stuff and A WCA SPECIALTY SHOW. What more could anyone want?
Winter Specialty Contact: Ellen Dodge, 401-782-3725, wcadodge@gmail.com

WCA 2017 NATIONAL FIELD CHAMPIONSHIP & FIELD FUTURITY

2017 NFT RUNNING ORDER

S C H E D U L E
Friday, December 1, 2017
"Dual" Welcome Party & WCA Winter Specialty Show
Hardy Murphy Coliseum, 600 Lake Murray Drive, Ardmore
Reception: 6:00pm – Dinner: 6:30pm
(Note – this event is BYOB)
Open Championship Calcutta
Saturday, December 2, 2017
Winners' Dinner
Thank you last year's Winners!
Clubhouse 6:30pm
Field Futurity Calcutta
Sunday, December 3, 2017
Orange Coast Weimaraner Club Dinner
Thank you OCWC!
Clubhouse 6:30pm
Amateur Championship Calcutta

Monday, December 4, 2017
★ Free Night ★
Tuesday, December 5, 2017
2016 Top Ten Derby List Celebration Night
Thank you Top 10 Derby Dogs
Clubhouse 6:30pm
Derby Calcutta
Wednesday, December 6, 2017
★ Free Night ★
Thursday, December 7, 2017
Thank you National Sponsors Night
PURINA • SPORTDOG • MODELO • CLEATS SPORTS • GUN DOG SUPPLY
Clubhouse 6:30pm
Puppy Calcutta
Friday, December 8, 2017
Awards Banquet – $40 per person
Note: Signup in Clubhouse by Sunday, December 3
Cocktails: 6:00pm – Dinner: 7:00pm
Ballroom at the New Lake Murray Lodge
HOSPITALITY THROUGHOUT WEEK
Dinners are sponsored each night (Thank you Sponsors!)
Lunches served daily in the clubhouse and are $6 per person
Coffee & To-Go Breakfasts served daily from the dog wagon – DONATIONS
GLADLY ACCEPTED – See Donation Jar in Clubhouse
---
Click here for the Winter Specialty Judging Schedule

Click Here For: Winter Specialty Premium List

Click Here For: NFT Premium List
---

Weimaraners, owners, handlers, friends & family will be congregating from all over the U.S. & Canada in Ardmore, Oklahoma on December 1, 2017 for the 68th running of the WCA National Field Championships & Field Futurity. We invite you to join this celebration as the cream of the crop compete for the honor of becoming this year's National Champion, National Amateur Champion, Field Futurity, National Derby and National Puppy Winners. Hope to see you there!
NFT Co-Chairs
Cydney Hansen • 406-794-9645 • cydneyhansen@gmail.com
Chris Meyer • 507-273-3141 • jewelweim@gmail.com
Field Trial Committee
Esteri Hinman (Secretary), Larry Anderson, John Bonner, Kim Burnell, Chuck Cooper, Ron Hudson, Andy Kidd, JR Mallon, Kory McGaughy and Bryan Reynolds
Club House Hopitality
Tamra McGaughy • 214-529-3190 • sigmabull_2000@yahoo.com (Please contact Tamra to volunteer your help!)
NFT Banquet Raffle
Barb Schiemann • 303-249-3694 • schiemab@gmail.com
Deadline for advance donations/gifts: November 22, 2017
Mail to: Gayle Taber, 721 Blue Agave Lane, Georgetown, TX 78626
Shotgun Raffle
Ron Hudson • 210-710-8576 • weims369@gmail.com (Tickets are $20/book of 5 tickets or $5 per ticket)
Logo Wear
Logo Wear for the 2017 NFT can be purchased on-line at: http://www.ordermycustomgear.com/weim-national
---
Dual Welcome Party
For the love of the GRAY GHOST
Whether you are show, field, both or just in the area, please join The WCA Officers, Board of Directors and membership at the Dual Welcome Party to be held in conjunction with the WCA Winter Specialty Show and prior to the running of the 2017 WCA National Field Trial. Reserve your meal by November 29th. E-mail Tamra McGaughy at sigmabull_2000yahoo.com
Friday, December 1, 2017
Reception at 6:00 p.m. / Meal at 6:30 p.m. (This event is BYOB)
Hardy Murphy Coliseum – Ardmore, Oklahoma



---
WCA 2017 National Field Championship Shotgun Raffle

Browning Citori White Lightning 20Ga with a 26in Barrel
Drawing: Friday. December 8, 2017
Lake Murray Lodge, Ardmore, OK – NFT Awards Banquet
Winner is required to pass a BACKGROUND Check but need not be present to win
All monies raised go to offset the costs of the NFT and benefit the WCA as a whole. All profits are returned to the WCA general fund and are used to support agility, conformation, tracking, field, etc. This gun sells for over $2,000 so you could easily sell it for $1500. Clubs – Use it as a fundraiser!
Tickets are a book of 5 for $20 or $5 each
NOTE: Required info: Name, Phone Number and a readable Email Address

To purchase by check please send check (payable to WCA) to:
Ron Hudson
132 Eagle Creek Ranch Blvd
Floresville, TX 78114
210-710-8576
weims369@gmail.com

To purchase with PayPal send funds to:
wcadodge@gmail.com
Be sure to send a separate email with the Required Information mentioned above.

To purchase with Visa, MC or AMEX please call (email is not secure for card info):
Ellen Dodge, WCA National Office
401-782-3725
---
2017 NFT Logo Wear Now Available for On-line Ordering
Go to http://www.ordermycustomgear.com/weim-national

There are lots to choose from and in many, many colors. See a few samples below. For a little extra you can even have your name or kennel name embroidered on the item as well.

PLEASE NOTE: FOR ARDMORE DELIVERY: ORDERS MUST BE RECEIVED BY FRIDAY, NOV 12 TH 2017.
FOR XMAS DELIVERY: ORDERS MUST BE RECEIVED BY WEDNESDAY, DEC 6TH, 2017.
ORDERS WILL BE ACCEPTED THROUGH FRIDAY, JANUARY 5, 2017
HAVE FUN SHOPPING!!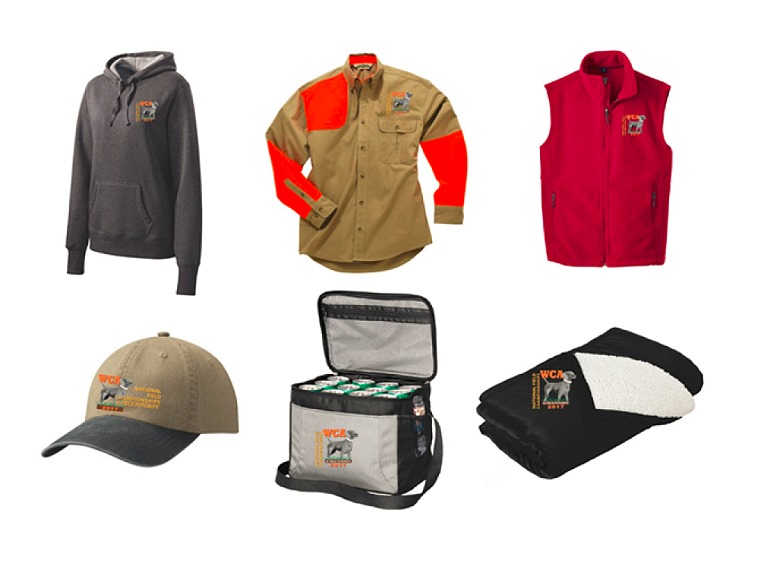 ---
The Weimaraner Club Of America National Field Trial
Historical Field Records
OPEN:
Weimaraner National Field Championship Stake

FUTURITY:
National, Eastern, Western and MAC Field Futurity Results

AMATEUR:
National Amateur Field Championship Stake

DERBY:
National Open Derby Stake

PUPPY:
National Open Walking Puppy Stake

ANNUAL TOP FIELD PRODUCERS:
Top Producers List



---