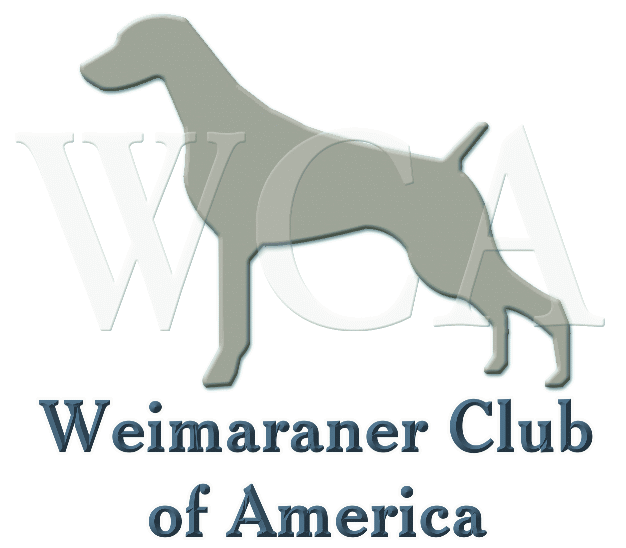 The Weimaraner Club Of America 2022 National Specialty "BIG 3" Raffle
Benefitting the Weimaraner Club of America, the Weimaraner Foundation Fund, and the Weimaraner Club of Greater St. Louis
Drawing to be held Wednesday, May 11, 2022 at the Top 20 Presentation, Gray Summit, MO
Need not be present to win
Together, these organizations provide direct & indirect funding to national, local, individual and non-profit/charitable Weimaraner causes such as: Weimaraner rescues; medical/health disease and DNA research; ethical breeder development & education; community outreach & education; Emergency Management animal rescue, relief & relocation; WCA historical records/awards preservation; and, MANY other organizations/causes that advocate for, promote, improve and preserve our versatile breed.
Print-Complete-Check-Mail Orders: 2022 WCA "Big Three" Raffle Tickets can be purchased by printing tickets from this website (see below for ticket links), and mailing a check payable to WCA with the completed tickets to:
Julie Aune
3384 Meadowbrook Dr NE
Lancaster, OH 43130
MUST BE RECEIVED BY MAY 6, 2022

Ticket Phone Orders: Call Cindy James-Moore, WCA National Office, 830/624-9699. This voicemail is secure. If she doesn't answer, leave Visa, MC or Amex card number, exp date & security code, plus your name, phone & email. Cindy will pass the paid ticket information to Julie L. Aune. Ticket phone orders may be placed through MAY 6, 2022.
★ IMPACT COLLAPSIBLE DOG CRATE ★
Retail value: $800

Winner will select size, color, and shipping info.
Drawing will be held Wednesday, May 11, 2022 at the Top Twenty Presentation - Gray Summit, MO. Winner need not be present to win.

Ticket price $5.00 each
---
★ FLYING PIG ELECTRIC LIFT GROOMING TABLE WITH ARM ★
Retail value: $1000
Generously donated by Gretchen Jungermann

The Flying Pig Durable Electric Lifting Grooming Table is well-designed for maximum comfort on part of the user. The base structure is made of steel and is an X-style frame designed for wider lifting range, lifting the table from a short height of 10.75" to a staggering 41.5" in a matter of seconds. The table itself is framed perfectly for all the pets, measuring 45.75" to 25.75", providing plenty of surface room for the pet to sit on. The surface rubber material of the table is covered with a grey bone-patterned surface that is slip-resistant and geared towards keeping pets in place. Table can support pets up to 220 pounds.

Product Details:
• Table is 45.75" Length x 25.75" Width
• Table's lifting range is from 10.75" to 41.5" H
• Dual Foot Pedals allow for user's maximum control
• Steel base and frame
• X style frame is sturdy and able to withstand punishment
• Table supports pets up to 220 lbs
• Non slip rubber top w/ Bone shape pattern surface
• Adjustable overhead grooming arm
• Design allows for simple, fast, and effective cleaning

Product Benefits:
• 1 Year Manufacturer Limited Warranty
• Product includes table, frame, and durable grooming arm w/ loops

Drawing will be held Wednesday, May 11, 2022 at the Top Twenty Presentation - Gray Summit, MO. Winner need not be present to win.

Ticket price $5.00 each
---
★ 2004 WEIMARANER RESCUE QUILT ★
Generously donated by Jennifer and Robert Aiken

Drawing will be held Wednesday, May 11, 2022 at the Top Twenty Presentation - Gray Summit, MO. Winner need not be present to win.

Ticket price $5.00 each
---